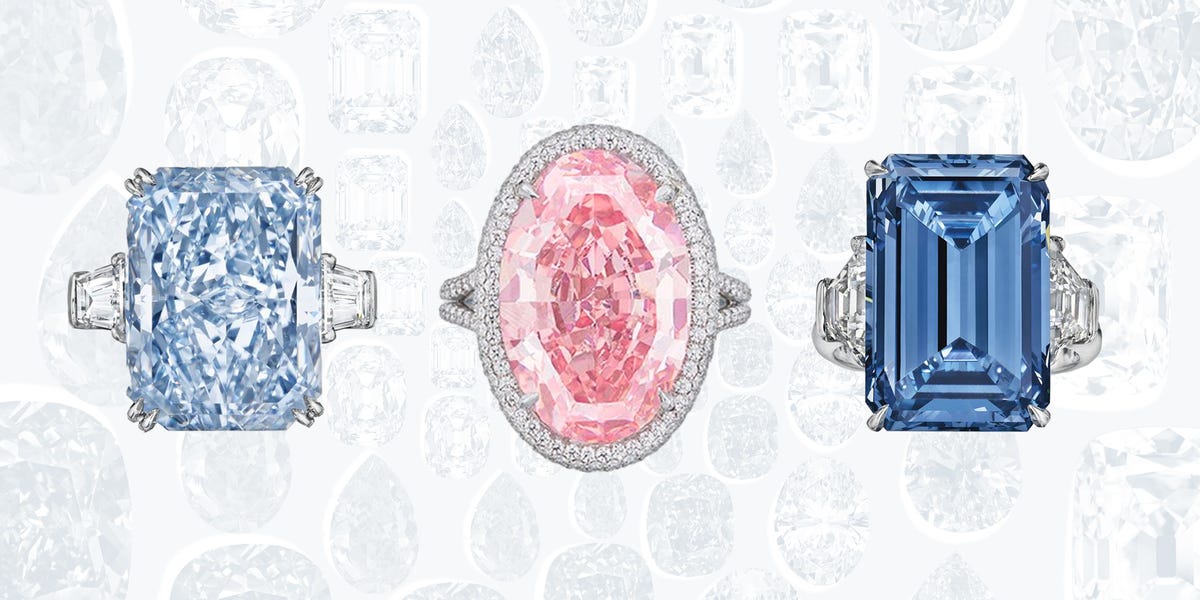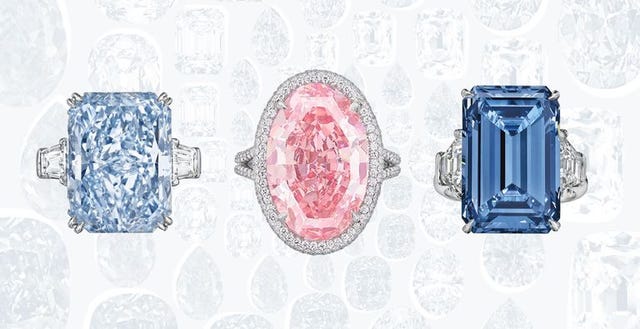 Courtesy/Michael Stillwell
Over the past decade the price of rare diamonds and gems has skyrocketed. Buyers have dropped tens of millions of dollars on jewels, and the competition is intensifying. It seems there's no limit to what someone will pay to own the largest flawless diamond or a mesmerizing Burmese ruby. Some will pay top dollar to have the naming rights on a celebrated stone. Others pay for the bragging rights of wearing Queen Marie Antoinette's pearl. Some drop millions in the name of love.
What gets top dollar? The six most expensive jewels—each above $40 million—were fancy colored pink and blue diamonds. They are rare natural wonders that auction experts compared to great works of art; there is only one and it can't be repeated. But even better than art, buyers can wear these jewels every day—though some may require a security guard.
Here, the 40 most expensive jewels sold at auction.
Advertisement – Continue Reading Below
1 The Pink Star, $71.2 million
Sotheby's Hong Kong, April 2017
The Pink Star shattered every price record when it sold at Sotheby's for an astonishing $71.2 million. At 59.60 carats, the fancy vivid pink internally flawless diamond is the world's most expensive diamond or jewel sold at auction—by a long shot. This beautiful pink jewel (about the size of a strawberry) is prized for its size, clarity, and intensity of color. Like a great work of art, experts say there will never be another one like it.
2 The Oppenheimer Blue, $57.5 million
Christie's Geneva; May 18, 2016
The world's largest fancy vivid blue diamond to hit the auction block, the 14.62-carat diamond might sound relatively small compared to 60-carat Pink Star, but vivid blue diamonds are even more rare than pink so to find one of this size and quality is miraculous. It was named for Sir Philip Oppenheimer, the former chairman of the De Beers diamond company who owned the stone.
3 Memory of Autumn Leaves & Dream of Autumn Leaves, $57.4 million
Sotheby's Geneva, May 2017
As the most expensive earrings sold at auction, this set of fancy-colored pear-shaped diamonds are an unlikely pair. Similar in size and shape, one is a 14.54-carat fancy vivid blue diamond and other is a 16-carat fancy intense pink. It's a collector's dream to get two exceptional colored diamonds in one sale.
4 The Winston Pink Legacy, $50.7 million
Christie's Geneva; November 13, 2018
When the Harry Winston company paid over $50 million for this diamond—far exceeding the $30 million estimate—it set a record price per carat for a pink diamond at auction. Originally found in South Africa and cut in 1920, the stone belonged to the Oppenheimer family who controlled De Beers. It's now famously named for its new owner.
5 The Blue Moon of Josephine, $48.4 million
Sotheby's Geneva, November 2015
Hong Kong billionaire Joseph Lau paid a jaw-dropping sum for a 12.03-carat internally flawless fancy vivid blue diamond as a gift for his seven-year-old daughter Josephine. This came a day after he purchased a 16.8-carat pink diamond for $28.5 million at rival auction house Christie's, which he named Sweet Josephine. That's fatherly love.
6 The Graff Pink, $46.1 million
Sotheby's Geneva, November 2010
Billionaire Laurence Graff dropped a record-breaking $46.1 million for a 24.78-carat fancy intense pink diamond. It once belonged to his rival Harry Winston, but now it's part of Graff's historic collection of rare diamonds and bears his name.
7 The Princie Diamond, $39.3 million
Christie's New York; April 16, 2013
Its noble lineage dates to the Nizams of Hyderabad, but more recently it's been the subject of a nasty family feud. The magnificent 34.65-carat fancy intense pink diamond belonged to Italian politician and businessman Renato Angiolillo. After his death, his children battled over his estate and claimed that stepsiblings stole the stone.
8 Queen Marie Antoinette's Pearl, $36.2 million
Sotheby's Geneva, November 2018
After a fierce bidding war, the victor paid a record price for this large natural pearl and diamond pendant. Not just any pearl, it belonged to the ill-fated French Queen Marie Antoinette and was part of a jewelry collection sold by Italy's royal Bourbon-Parma house. The new owner paid a premium for the bragging rights of the Queen's jewels.
9 The Orange, $35.5 million
Christie's Geneva; November 12, 2013
As the largest known fancy vivid orange diamond, this 14.82-carat pear-shaped stone is a natural phenomenon. As Christie's stated in their catalog, a stone of this color and size is "the ultimate possession for diamond collectors."
10 De Grisogono Diamond and Emerald Necklace, $33.7 million
Christie's Geneva; November 14, 2017
How do you wear a 163.41-carat D color, flawless diamond gracefully? Fawaz Gruosi, former owner of the now defunct de Grisogono, created an elegant necklace of hundreds of emeralds and diamonds to showcase the stone's breathtaking beauty.
11 The Zoe Diamond, $32.6 million
Sotheby's New York, November 2014
When Bunny Mellon sold her exceptional 9.75-carat fancy vivid blue pear-shaped diamond to Hong Kong property tycoon Joseph Lau for a record-breaking price, he promptly renamed it Zoe after his daughter. Mellon used the proceeds of the sale to fund her passion: It went to the Gerard B. Lambert Foundation, which supports the Oak Spring Garden Library and horticultural and educational endeavors.
12 The Pink Promise, $32.5 million
Christie's Hong Kong; November 28, 2017
Described by Christie's as "the Picasso of the pink diamond world," this 14.93-carat fancy vivid pink stone took in more than $30 million. Aside from its exceptional rose color, the shape is distinctive. "When you look at the shape of the stone, it's so elegant," says Rahul Kadakia, the house's international head of jewelry. "It's a cross between an oval and a marquise — what we call a moval."
13 Vivid Blue Diamond, $32 million
Sotheby's Hong Kong, April 2016
A vivid blue diamond alone is rare, but when it's over 10 carats and oval-shaped, it is even more exceptional. That's why this 10.10-carat vivid blue diamond ring flanked by two pear-shaped diamonds fetched more than $30 million.
14 The Unique Pink, $31.6 million
Sotheby's Geneva, May 2016
When this 15.38-carat fancy vivid pink pear-shaped diamond sold in 2016, it set a world record for any vivid pink diamond at auction. The GIA wrote: "The Unique Pink is a most distinctive item in the fascinating world of gemstones. It is exceptionally rare for any natural diamond to reveal fancy vivid pink color, but for one of 15.38 carats to exhibit such tone and saturation is astonishing."
15 Flawless Oval Diamond, $30.8 million
Sotheby's Hong Kong, October 2013
At 118.28 carats, this D flawless oval-shaped diamond is a type lla, a rare category of diamonds that are the most chemically pure and often described as appearing like pools of crystal-clear water. At the time of its sale, the GIA reported it was the largest diamond of this size, shape, and quality it had ever graded.
16 Cartier Sunrise Ruby Ring, $30.4 million
Sotheby's Geneva, November 2014
In the world of colored gemstones, a Burmese pigeon blood ruby is the most rare and valuable. They stand apart for their deeply saturated color and natural fluorescence, which gives the stone a lively inner fire. Industry experts say that this 25.59-carat cushion-cut Burmese ruby set between two shield-cut diamonds in a Cartier signed ring is the most beautiful of its kind.
17 The Sweet Josephine, $28.5 million
Christie's Geneva; November 10, 2015
In two days, Hong Kong billionaire Joseph Lau spent nearly $80 million on two diamonds for his seven-year-old daughter Josephine. He paid a record price for this 16.8-carat fancy vivid pink cushion-cut diamond ring, type lla. The next day, he paid over $48 million for a vivid blue diamond at Sotheby's. Now Josephine's name is forever tied to two record-breaking diamonds.
18 Hutton-Mdiani Jadeite Necklace, $27.6 million
Sotheby's Hong Kong, April 2014
As a symbol of supreme status and wealth in Asia, top-quality jadeite is the most coveted jewel even surpassing diamonds. That's why a collector dropped a record-breaking $27.6 million for this important necklace comprised of 27 perfectly matched graduated jadeite beads of translucent bright green color. Owned by socialite Barbara Hutton and Princess Nina Mdivani, it also has an impressive provenance.
19 The Winston Legacy, $26.7 million
Christie's Geneva; May 15, 2013
To solidify its place as the source of the world's premiere diamonds, the Harry Winston company dropped nearly $30 million on what was billed as the world's largest flawless diamond at the time. The 101.73-carat D flawless pear-shaped stone came from a 234-carat rough diamond discovered in a De Beers mine in Jwaneng, Botswana. It took nearly two years to cut and polish before it came to auction as what Christie's called the "perfect diamond."
20 Spirit of the Rose, $26.6 million
Sotheby's Geneva, November 2020
As the most expensive purple-pink diamond sold at auction at the time, the Spirit of the Rose is named for its beautiful rosy hue. Discovered in 2017 in Russia's remote Republic of Sakha (Yakutia), the original 28-carat rough pink crystal was transformed into a perfectly proportioned 14.83-carat fancy vivid purple-pink oval diamond.
21 The Cullinan Dream, $25.3 million
Christie's New York; June 9, 2016
The 24.18-carat fancy intense blue diamond was discovered in 2014 in the storied South African Cullinan mine. The mine is famous for producing some of world's most historic stones, including the Cullinan I, which is now housed in the Tower of London as part of the Crown Jewels of England.
22 The Wittelsbach-Graff, $24.3 million
Christie's London; December 10, 2008
Dating back to 1664, the 35.56-carat fancy deep greyish-blue diamond belonged to Spanish, Austrian, and Bavarian royalty before Laurence Graff paid a record-breaking sum to add his name to the diamond. To the dismay of collectors and purists, Graff recut the stone to improve its brilliance and minimize imperfections. It's now a slimmer 31 carats—and perfect.
23 The Winston Blue, $23.8 million
Christie's Geneva; May 14, 2014
After Harry Winston purchased this 13.22-carat flawless fancy vivid blue pear-shaped diamond ring, it was renamed in honor of its founder—and to carry on his legacy as the King of Diamonds.
24 The Perfect Pink, $23.1 million
Christie's Hong Kong; November 29, 2010
In 1642, French merchant and adventurer Jean-Baptiste Tavernier recorded seeing a large pink diamond over 200 carats, shown to him by Moghuls in the Kingdom of Golconda. In the ensuing centuries, relatively few top-quality sizable pink diamonds were discovered, and that's why prices have skyrocketed. A case in point is this 14.23-carat rectangular-cut fancy intense type lla pink diamond which fetched $23 million.
25 The Ultimate Emerald-Cut Diamond, $22.1 million
Sotheby's New York, April 2015
Billed as the "perfect" 100-carat emerald cut diamond, the stone appeared like a pool of water. At the time, it was one of only six diamonds over 100 carats to hit the auction block. A diamond of this quality and size is considered a natural wonder. The D flawless type lla stone is the whitest and clearest stone imaginable.
26 The Archduke Joseph Diamond, $21.5 million
Christie's Geneva; November 13, 2012
This 76-carat D flawless diamond packs historic significance: It was discovered in the ancient Golconda mines of India, the world's only diamond source until the early 18th century and belonged to Archduke Joseph August (1872–1962), a Hungarian prince of the Habsburg dynasty. Provenance aside, it's an extraordinary diamond in quality, size and beauty.
27 Magnificent Fancy Intense Pink Diamond Ring, $20.8 million
Sotheby's Geneva, November 2016
An investment worthy jewel: Now that the world's main source of pink diamonds, the Argyle mine, was depleted and closed in 2020, the prices for pinks have skyrocketed. That's what makes this 17-carat fancy intense pink diamond a smart investment.
28 Moussaieff Blue and Pink Diamond Necklace, $20.5 million
Christie's Hong Kong; May 29, 2018
If you can't decide between a rare blue or pink diamond, Moussaieff created an exquisite necklace with two exceptional diamonds. It features an 8-carat fancy vivid blue internally flawless, pear-shaped diamond and a 1.60-carat fancy intense pink round diamond. The perfect pairing.
29 A Rare Fancy Vivid Purplish-Pink Diamond, $19.9 million
Sotheby's Hong Kong, October 2019
Real estate, stocks, or diamonds? It appears that rare pink diamonds deliver the best returns: Over the past 20 years, pink diamonds from the Argyle mine have risen 500% in value. That's why this exceptional 10.64-carat fancy vivid purplish-pink diamond fetched $20 million.
30 The Crimson Flame, $18.3 million
Christie's Hong Kong; December 1, 2015
Since Marco Polo brought Burmese rubies to Europeans in the 13th century, the scintillating red gem has captivated people. This 15.04-carat cushion-cut pigeon blood Burmese ruby exemplifies the finest quality of rubies with its rich, saturated color and scintillating inner fire.
31 Fancy Vivid Blue Cushion-cut Diamond, $18.3 million
Christie's New York; December 5, 2018
An exceptional 8.08-carat fancy vivid blue diamond is even more valuable in a signed Bulgari ring. These exceptionally rare diamonds get their color from traces of boron in the stone's structure—and they remain one of the most elusive stones in the jewelry world.
32 A Pear-Shaped Fancy Vivid Pink Diamond, $18.2 million
Christie's Geneva; November 15, 2016
The demand for top-quality pink diamonds far exceeds the supply, and that's why when a stone like this 9.14-carat pear-shaped fancy vivid pink diamond comes to market, there is always a buzz. A private Asian collector placed the winning bid for this diamond.
33 Highly Important Vivid Purple-Pink Diamond Ring, $17.8 million
Sotheby's Hong Kong, October 2014
Whenever a pink diamond of more than 5 carats comes to auction, it becomes the center of attention and fetches top dollar time after time. What makes this 8.41-carat fancy vivid purple-pink diamond even more desirable is the perfectly proportioned pear-shape set in a signed Sotheby's Diamonds ring with white diamonds.
34 Miroir de l'Amour (Mirror of Love), $17.6 million
Christie's Geneva, November 15, 2016
When the world's most important pair of flawless diamond earrings come to auction, it's going to create a commotion. Stunning in size and beauty, it's a triumph to find a matching pair. These D flawless pear-shaped diamonds—over 50 carats each—are the best of the best.
35 The Maria Cristina Royal Belle Epoque Diamond Brooch, $17.6 million
Christie's Geneva; May 14, 2014
The epitome of love and romance, the Cartier signed Belle Epoque diamond devant-de-corsage brooch was a wedding gift from King Alfonso XII of Spain to his wife, the Archduchess Maria Christina of Austria in November 1879. The elegant design features a trio of large diamonds—34.8-carat pear-shaped, 23.55-carat oval-shaped, and a 6.5-carat marquise-shaped—with lily-of-the-valley diamond links.
36 Superb Vivid Blue Diamond Ring, $17.1 million
Sotheby's Geneva, May 2016
An exceptional and rare jewel, the 7.32-carat pear-shaped fancy vivid blue is a discreet collectible. Most won't know you are wearing a $17 million dollar ring. If you know, you know.
37 The Martian Pink, $17.4 million
Christie's Hong Kong; May 29, 2012
Most natural pink diamonds have a tinge of purple or orange, but this 12-carat fancy intense pink stone is pure pink. Originally owned by Harry Winston, the jeweler sold it to a private buyer in 1976, the same year that the U.S. launched a satellite mission to Mars. Winston's heir, Ronald Winston, named it the Martian Pink to mark the historic milestone.
38 The Sky Blue Diamond, $17.1 million
Sotheby's Geneva, November 2016
Blue diamonds are so rare that most people will only see them in a museum, such as the Smithsonian in Washington, D.C. which houses the famous Hope Diamond. The 45.52-carat dark grayish blue Hope Diamond is the most visited artifact at the museum—which illustrates a blue diamond's magical appeal. This 8.01 fancy vivid blue diamond in a Cartier signed diamond ring is also a mesmerizing jewel.
39 The Star of the Season, $16.6 million
Sotheby's Geneva, May 1995
When Sheikh Ahmed Hassan Fitaihi of Saudi Arabia purchased the 100.10-carat D flawless diamond, it set an auction record for the highest priced jewel. A voracious jewelry collector, the Sheikh purchased thousands of important jewels and stones—but this one was especially meaningful. Soon after he acquired it, someone offered to buy it for a sizable mark-up, but he refused to sell.
40 The Graff Vivid Yellow, $16.3 million
Sotheby's Geneva, May 2014
Described as the color of a daffodil, the 100.09-carat fancy vivid yellow diamond is one of the largest and most valuable top-quality yellow diamonds. The 190-carat rough diamond was uncovered in South Africa in 2005 and purchased by Laurence Graff who sacrificed nearly 50 percent of its carat weight to achieve perfection.
This content is created and maintained by a third party, and imported onto this page to help users provide their email addresses. You may be able to find more information about this and similar content at piano.io
Advertisement – Continue Reading Below