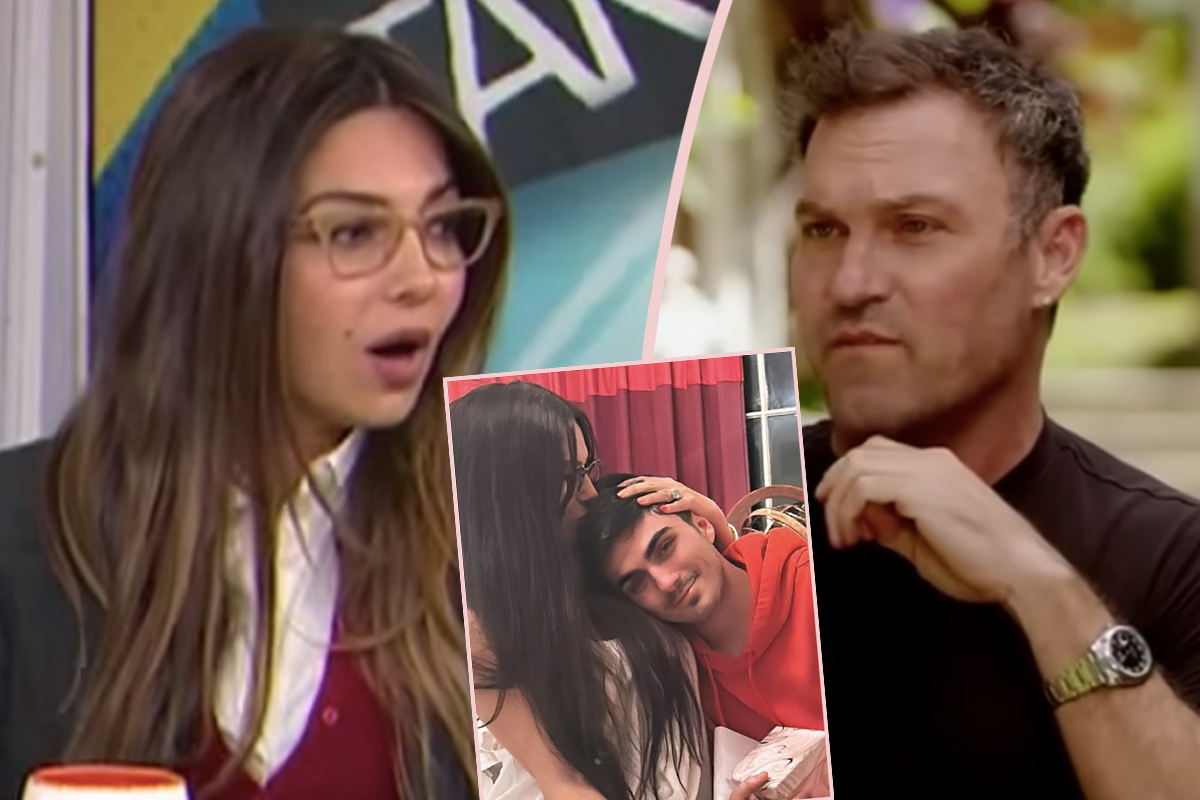 Brian Austin Green is opening up about co-parenting.
During Tuesday's episode of his Old-ish podcast, the Fish Without a Bicycle actor shared that his co-parenting dynamic with his FIRST baby momma Vanessa Marcil, whom he met on Beverly Hills, 90210, has been "difficult from the beginning." If you didn't know, he shares 21-year-old son Kassius with Vanessa, in addition to Noah, 10, Bodhi, 9, and Journey, 7, with ex-wife Megan Fox — and most recently, Zane, 1, whom he welcomed with current love Sharna Burgess last summer. And it sounds like his newest baby momma ain't all that fond of his first!
Related: Ben Affleck Spotted HUGGING Ex Jennifer Garner! LOOK!
Sharna shared on the podcast episode that the actor's debilitating vertigo, which he suffered from for years, made it "very difficult" for him to see Kassius, and that Vanessa didn't make it any easier:
"Those years that he wasn't able to go see Kassisus, Vanessa made no effort to make sure Brian got time with him. Instead, she painted him as an absent father who chose not to be around for him. And I'm sure that information was fed to Kass, and I can't imagine how damaging that was for him."
Oof.
Vanessa has for years made it seem like she raised their son alone, which Brian called her out for back in February, and again now because she "knew" how severely he was affected by the medical condition. He said on the podcast:
"To then find out after the fact that at the point when I started getting better, that she then was painting it that I had abandoned Kass during that time, when the reality was I was dealing with such brain fog in what I was going through."
Jeez, how bad exactly was his vertigo?? Well, truly awful apparently! According to Austin, he was forced to handle the recovery process "like a stroke survivor would," having to relearn to talk, walk, and write.
OMG! Poor guy… He added in retrospect:
"It would've meant so much if Vanessa had decided 'Hey, I'm going to make sure while you're going through this that your son can still get to your house and see you.' That would've just made an incredible difference in the situation. But that's not what went down, that's not how it happened."
Wow.
Through the years, Brian said he's attempted to make "a real concerted effort" to make Kassius' life "as stable and normal as possible," even after he and Vanessa split in 2003 and he moved on with Megan Fox the following year. Lucky for him, co-parenting with the Transformers actress has been a much smoother process, as he continues to make abundantly clear. He shared about Megan:
"We co-parent really well together. When we need to, we communicate really well, we are open to things, we don't take things personally. It is my goal, and I think it's her goal as well, that the kids are in as healthy environment as they can be in."
Sharna agreed, adding that she and BAG's most recent ex also get along "really well":
"We are lucky because we have a great relationship. I think what's so important is we have made that a priority, for us to be able to interact and have a great time."
What a difficult situation with his oldest son's baby momma… What do YOU make of it, Perezcious readers?? Let us know in the comments down below.
[Images via Vanessa Marcil/Instagram, ABC & NBC/YouTube]