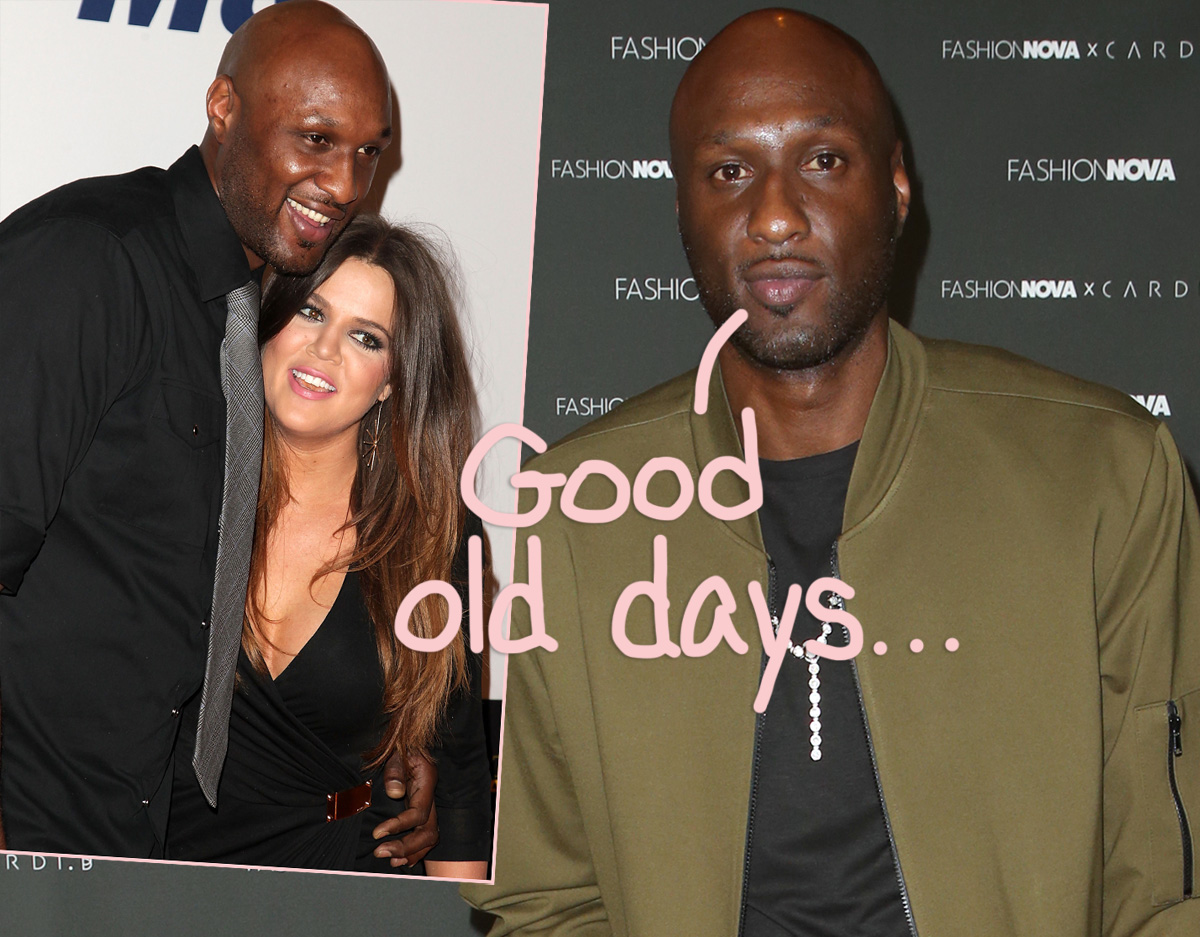 Lamar Odom is opening up about his time married to Khloé Kardashian, and the disastrous way it all ended.
Of course, the former Los Angeles Lakers star sat down for a much-anticipated interview with TMZ host Harvey Levin this week. On Monday night, Lamar Odom: Sex, Drugs, & Kardashians hit the airwaves. Millions watched as the ex-pro basketball star got real about his romantic rise with the reality TV star, as well as his addiction struggles and near-death overdose experience that ended it all.
Related: Khloé Shares The Best Photo Of Her Newborn Son Yet — LOOK!
As Perezcious readers will recall, Lamar and Khloé first tied the knot way back in 2009 — just one month after they met. For a while, they lived out their lives in wedded bliss. But happily ever after wasn't meant to be, and after several years together, Kim Kardashian's younger sis filed for divorce. That split was made official in 2016, about a year after the athlete very nearly suffered a fatal overdose in a Nevada brothel.
Today, Lamar looks back very fondly at his time with Khloé. The 43-year-old ex-NBA star explained to Levin how first connecting with Khloé gave him "relevance" in his life away from basketball:
"I was an amazing basketball player, but I know me marrying Khloé Kardashian gives me relevance in so many ways in the entertainment world, I know what I signed up for. I was doing business with my wife. It's her business, so I'm making it my business."
Soon after Lamar and Khloé dove into their relationship, momager Kris Jenner got involved. She served as Lamar's business manager for the rest of the time he was married to Kris' daughter — and Odom loved it. He said during the interview:
"I used to call her ma. She showed a lot of love. She was cool. I loved her. We all got into business. It was a family business — you know that, Harvey."
And the former University of Rhode Island basketball star continued:
"I was comfortable enough [for Kris to manage his career]. I'm happy enough to do it. I made some money. I came out on the positive."
But sadly, a fairy tale ending wasn't in the cards.
Related: Fans Mistake Khloé For Taylor Swift After Latest Photoshoot! Oops!
As their relationship moved forward, Lamar's drug use and infidelity took hold. He recalled to Harvey how much he struggled with abusing cocaine while married to the Revenge Body host:
"Drugs. That was my girlfriend. I had a wife and cocaine. For part of my marriage, I had to tell [Khloé]. You can't hide that forever. She was hurt, but Khloe was a good wife. She wasn't dismissive or 'get away from me,' she was protective and wanted to protect me even more. … behind the scenes, I put her through some s**t. Like s**t that y'all don't know. The stories that y'all don't know is, like, really crazy."
Jeez…
When pressed on the "s**t" he put Khloé through, Lamar explained how she rushed to be by his side after his near-fatal overdose in 2015. While he was in the hospital recovering, she tried to help resurrect his memory:
"She would bring me pictures of my mother, my grandmother, help me with my memory. I couldn't show how I really felt. I was hardly even talking. I could hardly say, 'thank you, Khloe.' I could think it, but I couldn't express it."
And Lamar added:
"I wish at that time I was more cognitive to let her know how much I appreciate her for that. I couldn't show how I really felt. I knew it had to be terribly frustrating for her."
Wow.
Through it all, Lamar somehow still has hope that he can one day reconcile with the KUWTK alum. Admitting he's "too shy" to ask her out but noting he's nevertheless still interested, Odom explained:
"I'm not a loser and I felt like I lost. I would love to just take Khloé out to dinner. [However] I'm too shy and I'm a Scorpio and I hate being told no or being denied. I'm afraid."
Of course, we've heard similar comments from him before. We're just not sure Khloé is going to be up for any reconciliation like that. While she may certainly wish Odom well, it seems like she's moved on from that part of her life. And any ex for that matter! What did U make of Lamar's interview comments here, tho, Perezcious readers? Sound off with your reaction down in the comments (below)…
[Image via FayesVision/WENN]