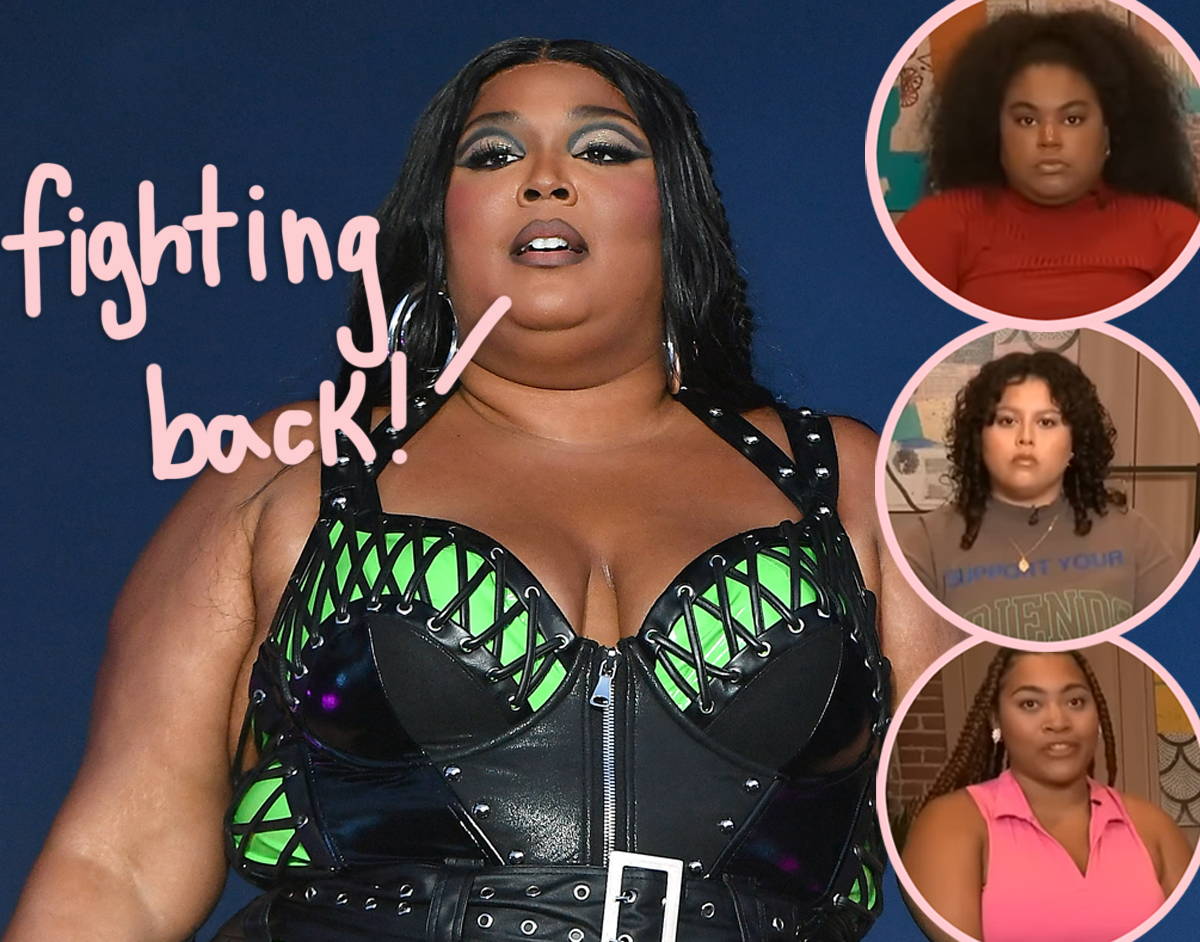 Lizzo plans to hit back at her ex backup dancers' allegations — by suing them!?
By now you know that the Truth Hurts artist was accused by three of her former employees, Arianna Davis, Noelle Rodriguez, and Crystal Williams, of sexual harassment, creating a hostile work environment, body shaming, and more in a bombshell lawsuit filed earlier this month. Lizzo vehemently denied the accusations. Since then, though, several others have come forward to back the three performers' claims. There's also a chance the hitmaker could be dealing with even more lawsuits very soon.
But Lizzo isn't going down without a fight! According to TMZ on Wednesday, the 35-year-old singer's attorney, Marty Singer, says she plans on suing the dancers their "sham" lawsuit "after she wins" the initial case. Specifically, she'll be going after them for malicious prosecution. As for why he's so confident Lizzo will be victorious in this future courtroom showdown? The lawyer claims he has evidence that proves her innocence, including a new picture of her three accusers having a good time backstage with some nude performers at a club in Paris.
Related: Lizzo Teases New Music During First Public Sighting Since Lawsuit
For those who don't know, Arianna, Noelle, and Crystal claimed in their lawsuit that they were invited to a club in France to "learn something or be inspired" by a performance there during The Special tour. However, Lizzo didn't tell them "it was a nude cabaret bar," thus "robbing them of the choice not to participate." This incident came a month after they were allegedly forced to touch nude performers and eat "bananas protruding from the performers' vagina" at a club in Amsterdam.
However, Singer says a newly surfaced picture show the trio "happily carousing" and "gleefully reveling" backstage with the performers from the nude cabaret in Paris on March 5. The attorney argued these images contradict the claims made by Arianna, Noelle, and Crystal, as they're "happily cavorting backstage" with the other dancers. You can see the image HERE.
There's more…
A few weeks later, Singer claimed to the outlet that the dancers asked to renew their contract and return for a third leg of her tour. Arianna also had raved about how "it's been so amazing and such a beautiful journey" to work with Lizzo in an audition tape one month after the Paris incident, adding:
"I look up to her so much. I just want to follow in her footsteps, and I just want to share that with the Queen Lizzo herself."
After the audition tape came out, Singer notes "she tried to explain away her glowing comments about Lizzo by claiming the 'bulk' of her accusations were based on things that happened later." But he asserts "that excuse is completely contradicted by the facts, including by these images."
Related: Justin Bieber 'Hasn't Talked' To Scooter Braun IN NEARLY A YEAR
So what do her former dancers have to say about this picture? Their lawyer, Neama Rahmani, fired back at Singer, stating that the three women are standing by the allegations in the suit no matter what:
"Of course, they wanted to keep their jobs. They had bills to pay just like everyone else but they finally had enough of the abuse. We stand by every claim in the lawsuit and look forward to trial. We've been hearing from other former employees sharing similar stories, and as seen in the Los Angeles Times article today about how Lizzo used intimate footage of her dancers without their approval in the 2022 HBO Max Love Lizzo documentary, we're seeing even more of a pattern of just how much Lizzo thinks of those who work for her. Clearly, not very much."
However, Singer insisted he has other "substantial evidence" that can "prove the glaring contradictions between what the plaintiffs claim in their bogus lawsuit and what is actually proven by the facts." Whoa…
Clearly, Lizzo is ready to go to battle. Reactions to the latest in the lawsuit drama, Perezcious readers? Let us know in the comments below.
[Image via MEGA/WENN, CNN/YouTube]