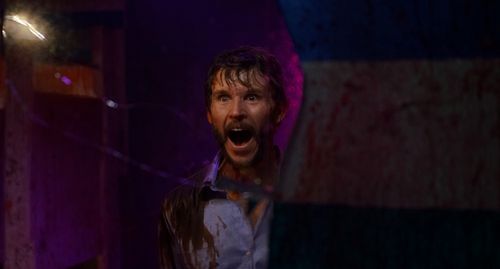 Variety comparte el tráiler de Glorious, la nueva película de la directora Rebekah McKendry (All the Creatures Were Stirring, Tales of Halloween) que se estrenará el 18 de agosto en Shudder.
La estrella de "True Blood", Ryan Kwanten, interpreta a un joven que está fuera de control tras una mala ruptura. Su situación se agrava cuando se encuentra encerrado en el baño de un área de descanso con una misteriosa figura (J.K. Simmons) que le habla desde un puesto adyacente. Mientras intenta escapar, se da cuenta de que es un actor involuntario en una situación más grande de lo que podría haber imaginado.
Co-escrita por Joshua Hull, David Ian McKendry y Todd Rigney, la historia lleva a Wes a lo más profundo de su propia psique mientras lucha con el destino y con una visión de lo impensable en este cómic de terror inspirado en Lovecraft.
Glorious es una propuesta interesante que parece guardar similitudes en los visual con Color Out of Space con Nicolas Cage. La estaremos esperando.
COMPARTE ESTE ARTICULO! – MIRA ABAJO LOS COMENTARIOS.
ADVERTENCIAS Y REGLAS antes de comentar en BLOGHORROR
• Comentar con respeto y de manera constructiva.
• No se permiten links de otros sitios o referencias a sitios de descarga. 
• Tratar de hablar de la pelicula en cuestión, salvo ocasiones especiales. Nada de interminables debates políticos, religiosos, de genero o sexualidad *
• Imágenes están permitidas, pero siempre con moderación y que no sean demasiado grandes.
• Los comentarios de usuarios nuevos siempre son moderados antes de publicarse.
• Por ultimo, las reseñas y criticas en BLOGHORROR pueden contener humor negro-ácido, que de ninguna forma debe ser tomado en serio! y que tienen como fin el puro entretenimiento satírico.
• Disfrute su estadía 😉
Continue Reading