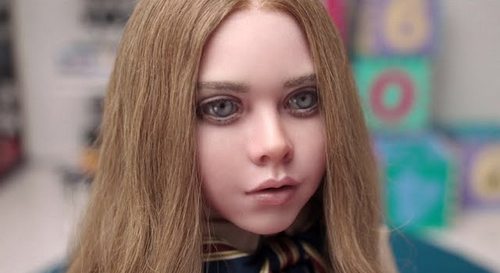 Producida por Blumhouse y James Wan (Saw, Insidious, The Conjuring, Maligno), la película de terror tecnológico M3GAN se dirige a los cines en el mes de enero.
Allison Williams (Get Out, La perfección) será la protagonista y productora ejecutiva de la película de terror de Blumhouse M3GAN, que llegará a los cines el 13 de enero de 2023.
M3GAN pretende dar un nuevo giro a Child's Play (Chucky) introduciendo un muñeco del tamaño de un niño de verdad, y esto parece una locura en todos los sentidos que promete ser un éxito de verano.
M3GAN es una maravilla de la inteligencia artificial, un muñeco de tamaño real programado para ser el mejor compañero de un niño y el mejor aliado de sus padres. Diseñado por la brillante robotista de una empresa de juguetes, Gemma (Allison Williams, de Get Out), M3GAN puede escuchar, observar y aprender mientras se convierte en amigo y maestro, compañero de juegos y protector, para el niño al que está unido.

Cuando Gemma se convierte de repente en la cuidadora de su sobrina huérfana de 8 años, Cady (Violet McGraw, The Haunting of Hill House), Gemma se siente insegura y no está preparada para ser madre. Bajo una intensa presión en el trabajo, Gemma decide emparejar su prototipo de M3GAN con Cady en un intento de resolver ambos problemas, una decisión que tendrá consecuencias inimaginables.
M3GAN está dirigida por el premiado cineasta Gerard Johnstone (Housebound), a partir de un guión de Akela Cooper (Maligno, La monja 2) basado en una historia de Akela Cooper y James Wan.
La película también está protagonizada por Ronny Chieng (Shang-Chi y la leyenda de los diez anillos), Brian Jordan Alvarez (Will & Grace), Jen Van Epps (Cowboy Bebop), Lori Dungey (El Señor de los Anillos: La Comunidad del Anillo, edición extendida) y Stephane Garneau-Monten (Straight Forward).
Estaremos esperándola con muchas ganas.
COMPARTE ESTE ARTICULO! – MIRA ABAJO LOS COMENTARIOS.
ADVERTENCIAS Y REGLAS antes de comentar en BLOGHORROR
• Comentar con respeto y de manera constructiva.
• No se permiten links de otros sitios o referencias a sitios de descarga. 
• Tratar de hablar de la pelicula en cuestión, salvo ocasiones especiales. Nada de interminables debates políticos, religiosos, de genero o sexualidad *
• Imágenes están permitidas, pero siempre con moderación y que no sean demasiado grandes.
• Los comentarios de usuarios nuevos siempre son moderados antes de publicarse.
• Por ultimo, las reseñas y criticas en BLOGHORROR pueden contener humor negro-ácido, que de ninguna forma debe ser tomado en serio! y que tienen como fin el puro entretenimiento satírico.
• Disfrute su estadía 😉
Continue Reading