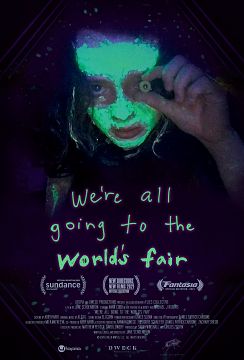 We're All Going to the World's Fair – Genero: Terror – Suspenso Pais: USA Duración: 86 minutos Director: Jane Schoenbrun Guion: Jane Schoenbrun Reparto: Anna Cobb, Michael Rogers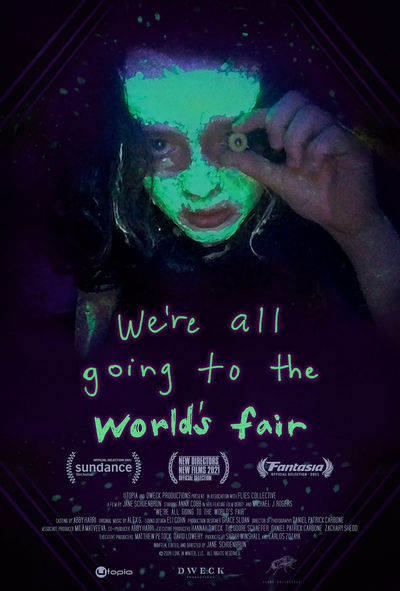 VALORACION: –


RESEÑA:
La realidad y la ilusión chocan cuando Casey opta por participar en el Desafío de la Feria Mundial, un misterioso juego de terror online que pide a los participantes que, al estilo de Bloody Mary, repitan tres veces "Quiero ir a la Feria Mundial" antes de sacarse sangre del dedo.
El juego, que parece una estupidez impresionante digna de un hilo de Twitter, es documentado por la chica a través de vídeos virales. Para su sorpresa, su control empieza a aflojarse y una misteriosa figura empieza a llamarla desde las profundidades de Internet… o de su propio inconsciente. 
We're All Going to the World's Fair
CRITICA: …
FICHA TECNICA:
Calidad: 1080
Audio: Ingles



SUBTITULOS
(Subs provisionales)
****
—
CAPTURAS
TRAILER

COMPARTE ESTE ARTICULO! – MIRA ABAJO LOS COMENTARIOS.
ADVERTENCIAS Y REGLAS antes de comentar en BLOGHORROR
• Comentar con respeto y de manera constructiva.
• No se permiten links de otros sitios o referencias a sitios de descarga. 
• Tratar de hablar de la pelicula en cuestión, salvo ocasiones especiales. Nada de interminables debates políticos, religiosos, de genero o sexualidad *
• Imágenes están permitidas, pero siempre con moderación y que no sean demasiado grandes.
• Los comentarios de usuarios nuevos siempre son moderados antes de publicarse.
• Por ultimo, las reseñas y criticas en BLOGHORROR pueden contener humor negro-ácido, que de ninguna forma debe ser tomado en serio! y que tienen como fin el puro entretenimiento satírico.
• Disfrute su estadía 😉
Continue Reading