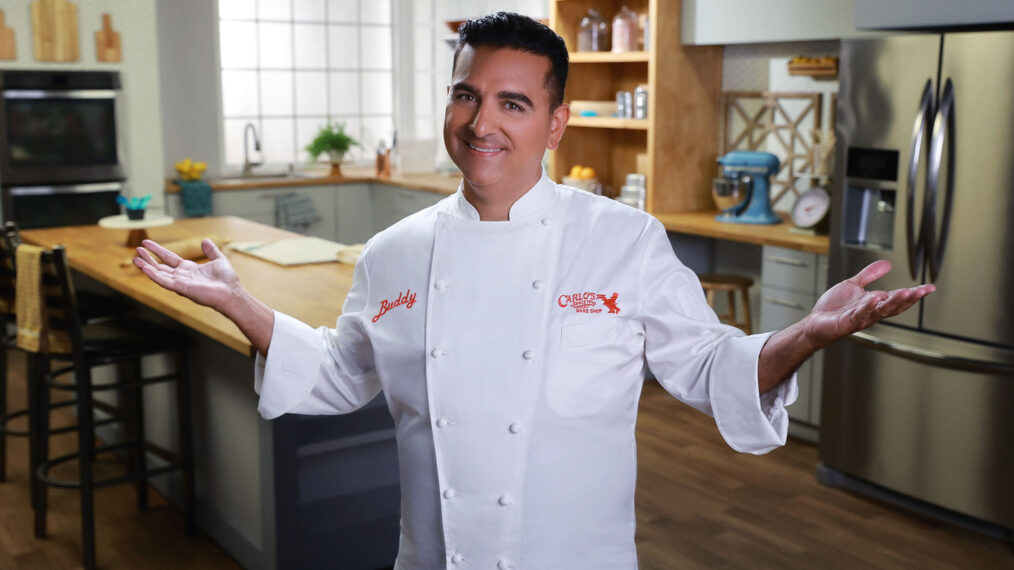 Cake decorating maestro Buddy Valastro wants to show the world that he's not just about constructing impossibly extravagant desserts. And though he's made cakes for NASA that can blast off a confectionary rocket and a toilet bowl–shaped cake that really flushes, Valastro notes that his long-running series Cake Boss "only showed one dimension" of him.
The Carlo's Bakery owner flashes his entrepreneurial skills for Cake Dynasty (and also takes his expertise on the road for Legends of the Fork, premiering at 9/8c, where he visits iconic eateries like Katz's Delicatessen). Below, Buddy sounds off.
Cake Dynasty really shines a light on the empire you've built. What can viewers expect to see from your business ventures that might surprise them?
Buddy Valastro: I run a 100,000-square-foot manufacturing facility where we might have to do 10,000 cakes in a day or 60,000 cake slices. We're about to go into retail, so we're going to be selling our cakes into different places all over the country. You might see me on the floor fixing my cookie machine or making a deal for another concept in Las Vegas. We also have pizzerias, vending machines, and Italian restaurants. My dream was always to make the bakery a household name with my dad, and I think we did that with Cake Boss, but now my dream is to be able to have anybody in the world taste my cake.
(Credit: Dave Kotinsky/Getty Images for NYCWFF)
Will we see your four kids — ranging in age from 12 to 20 — learning the biz?
I didn't want to force them to be on TV, but when I decided to do this show, they were psyched to be involved. It's about the succession of this business. Building it with my kids will be a lot of fun.
You've been baking professionally since you were a teen. Do you still love it?
Cake decorating is my escape pod. When I do it, I immerse myself totally and forget about my problems. If I don't decorate a cake every couple weeks, my wife says, "You seem stressed. Go make a cake!"
Is your right hand healed enough to decorate cakes after your 2020 injury where you were impaled by your bowling alley pinsetter?
It's 90 to 95 percent better. After five operations, I can do intricate cake work, but putting sprinkles on a cake or rolling out biscotti dough is still hard for me.
What do you consider your most triumphant creation?
The [7,000-pound pyrotechnic] Transformer. When I looked at it, I cried and said, "I wish my dad could have seen that." The second is the spectacular dinosaur from our last season of Buddy vs. Duff. It was a couple thousand pounds and 15 to 20 feet long.
We hear you also have a new competition series coming up on A&E.
Cake Toppers. We're looking for the best crazy, over-the-top cakes you've ever had. It's always a pleasure looking for the next Buddy Valastro!
Buddy Valastro's Cake Dynasty, Premieres Saturday, November 4, 10/9c, A&E
This is an excerpt from TV Guide Magazine's 2023 Fall Preview issue. For more first looks at fall's new shows, pick up the issue, on newsstands now.