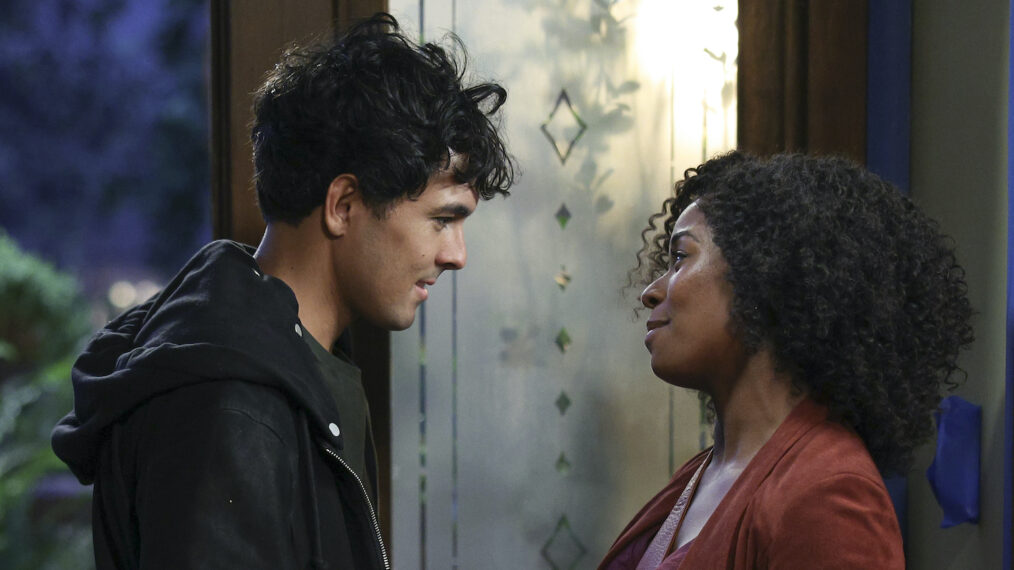 All Star
Season 19 • Episode 8
Welcome to Grey's Anatomy without Ellen Pompeo making rounds as Meredith Grey. Pompeo is down to guest-star status for now, after her character moved across the country last week. But at least we got Mer narrating the start of the ABC medical drama's March 2 episode: Season 19, Episode 8, "All Star."
[Warning: The below contains major spoilers for the Grey's Anatomy Season 19, Episode 8, "All Star."]
As the episode starts, Griffith (Alexis Floyd), Adams (Niko Terho), Yasuda (Midori Francis) are repainting Mer's old house… and bickering over which of them gets Mer's old bedroom!
The interns have more pressing matters at hand, though, including the patients of the week. And speaking of "pressing," one of those patients is a young man who took on one Seattle restaurant's "Pho-nomenal Challenge" — eating 3 pounds of noodles, 3 pounds of meat, and 3 pounds of broth — and now can't poop. Luckily for him, Yasuda helps him get things, ahem, moving again.
The other patients this week are Jermaine (Catfish Jean), a Seattle Seahawks player who needs ACL repair, and Sierra (Briza Covarrubias), a pregnant woman who's spotting.
Liliane Lathan/ABC
Millin (Adelaide Kane) comes to understand Sierra isn't thrilled about her pregnancy, and eventually, Sierra says she had postpartum depression after her last two childbirths. Now Sierra feels loathe to have another kid and not be able to be mom to her two existing kids, let alone a third. Jo (Camilla Luddington) asks Sierra if she wants an abortion, Sierra says yes, and Jo and Millin hold her hand as they terminate her pregnancy.
Liliane Lathan/ABC
Meanwhile, the whole hospital is starstruck to have Jermaine in their midst, and Link (Chris Carmack) — a big fan of "The Tank" himself — is feeling pressure to make the ACL repair a touchdown. The surgery goes well, and Link even gets a standing ovation from the docs in the gallery. But Jermaine suffers a clot and dies afterward. It's up to Griffith and Kwan (Harry Shum Jr.) to phone Jermaine's mom, and Kwan — having being on the other end of such a call — does what he can to break the news gently.
There's no telling how docs handle losing a patient, though. Griffith, for one, starts making out with Adams in the elevator.
Raymond Liu/ABC
And Link, drunk and feeling sorry for himself after losing Jermaine, tries to make out with Jo, who has been supporting him all day. She wards him off, though — seems like she just wants to stay friends.
Also striking out on romance are Winston (Anthony Hill) and Maggie (Kelly McCreary), who are still divided over Winston's planned speciality change. Maggie tells Amelia (Caterina Scorsone) that all the couples therapists in Seattle are booked, so she and Winston have agreed to a ceasefire. That ceasefire, though, means they're barely speaking to each other. And at the end of the hour, we see what happens when they do talk: Maggie tries to comfort Winston after Jermaine's death, but their conversation devolves into yet another argument.
Raymond Liu/ABC
Throughout the episode, Teddy (Kim Raver) mulls over the prospect of becoming Chief of Surgery in Mer's absence. She realizes she's the only one interested in the position, and she starts having second thoughts after speaking with Bailey (Chandra Wilson), who says that the pay bump is more like a pay nudge and that Teddy will just be fielding complaints from surgeons all day long. Bailey tells Teddy to "ask for the moon" if she wants the job, so Teddy tells Richard (James Pickens Jr.) she wants a full-time administrative assistant, double the pay increase, a stipend for research, and three weeks off. Richard, who's no fool, tells Teddy he was going to take the position, and so Teddy gives up the research stipend ask.
But later, Amelia bursts into the negotiations, putting her name into the running for chief. Her demands are even steeper than Teddy's, so Richard relents and gives Teddy the position with all the perks Teddy wanted, even that stipend. And it's only after Richard leaves the room that Amelia tells Teddy she never wanted the job — Bailey sent her to run interference. Ha!
Teddy doesn't have long to celebrate the promotion, though. The press has gotten wind of Jermaine's death, and the scuttlebutt is that it's all Link's fault. Teddy and Owen (Kevin McKidd) have to fight through a thrum of reporters just to leave the hospital.
Griffith also gets a helluva surprise when she leaves Grey Sloan that night: She and Adams get back to Mer's old house to find her ex Trey (William Martinez) waiting with a bouquet of flowers. And when Trey asks who Adams is, Griffith says he's her "roommate."
Grey's Anatomy, Thursdays, 9/8c, ABC