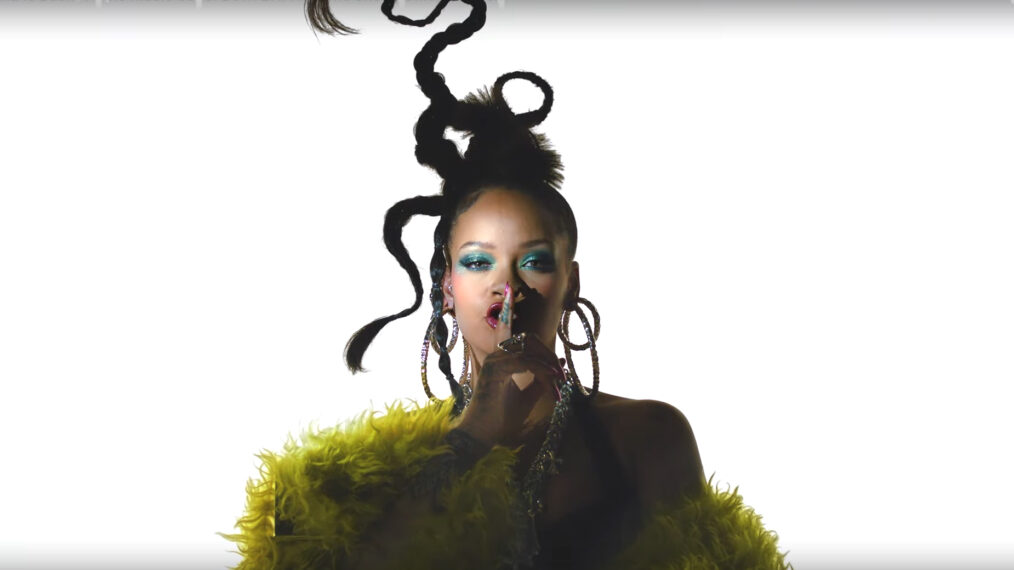 "It's been six years since the nine-time Grammy winner dropped her last album," says one of the many voices in the newly released teaser for Rihanna's upcoming headline spot at the Super Bowl halftime show.
The 30-second video (watch below) sees the multi-time award winner emerging from the darkness into the spotlight as several voices from fans and reporters are heard wondering when she is going to return and deliver her long-awaited ninth album.
"Dude, Rihanna, we've waited for you," says one of the voices, while another exclaims, "RiRi, where have you been?!"
Eventually, Rihanna steps into the light, wearing a furry green coat and black dress combination. She puts her finger to her lips and motions for the voices to "shush" before a snippet of her 2016 track "Needed Me" begins to play.
The "Umbrella" singer was announced as the halftime headliner back in September when she posted a photo on Instagram of just her arm holding up a Wilson Duke football. She will be the first performer since the halftime show has been rebranded under Apple Music — Super Bowl LVII takes place on Sunday, February 12, in Glendale, Arizona.
"Rihanna is a generational talent, a woman of humble beginnings who has surpassed expectations at every turn. A person born on the small island of Barbados who became one of the most prominent artists ever. Self-made in business and entertainment," said Roc Nation founder Shawn "Jay-Z" Carter in a previous statement.
The 2022 halftime show was headlined by Dr. Dre, Snoop Dogg, Eminem, Mary J. Blige, and Kendrick Lamar and included guest appearances by 50 Cent and Anderson .Paak. Previous halftime show performers include Beyoncé, Justin Timberlake, Lady Gaga, Jennifer Lopez, Madonna, and The Weeknd.
Super Bowl LVII, Sunday, February 12, 6:30 pm ET, Fox