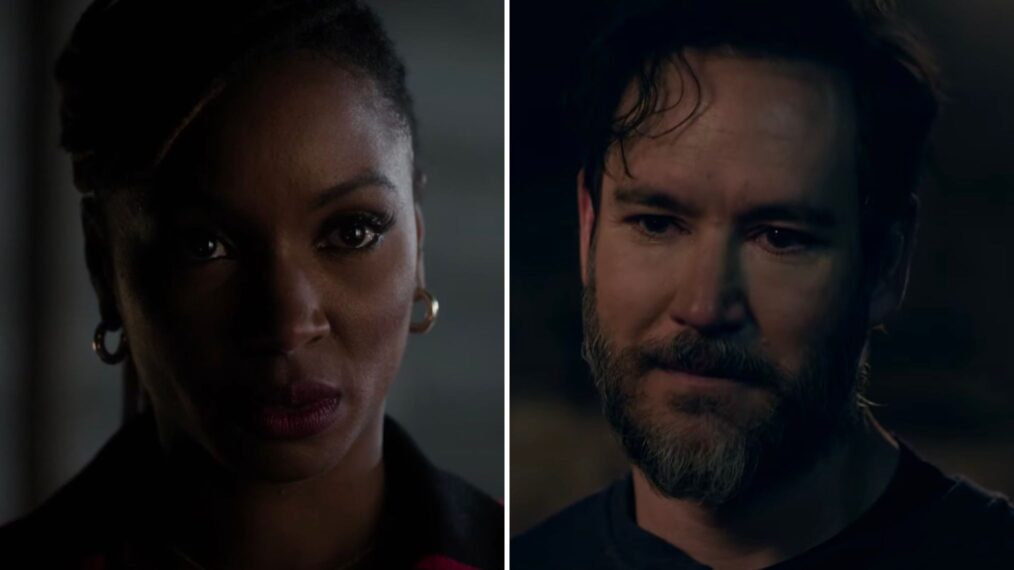 "Righteous. Empathetic. Heroic. Just a few of the words used to describe you, considering that you saved yourself from your kidnapper when you were 16 years old. I have to ask: Does it haunt you that your kidnapper was never found?" That's the question posed to public relations specialist Gabi Mosely (Shanola Hampton) in the trailer for the new NBC drama Found (premiering October 3).
"Haunt? No," she says. As she explains, "We find missing people who have slipped through the cracks, and we bring them home."
But there's more than meets the eye in how Gabi, with her crisis management team, finds missing persons. She herself was one of the forgotten ones, and she's hiding a chilling secret of her own: She found her kidnapper, Sir (Mark-Paul Gosselaar), and uses his twisted expertise to help solve their cases.
As the trailer shows, she has Sir chained up and brings her cases to him. He sees it as a "partnership," and she calls him out on being a monster. "You think you're not like me?" Sir asks. He then calls her "so self-righteous," and she reminds him that he kidnapped a child. "And you kidnapped a man," he says in reply.
"You want to be here, don't you?" Gabi asks at one point. "Remove the chain and find out," he suggests. Watch the full trailer above for all the chilling creepiness.
"You will see how Gabi was abducted, how she saved herself, and other key moments throughout the first season that help you understand her as a character," Hampton said before the actors' strike.
Found also stars Kelli Williams, Brett Dalton, Gabrielle Walsh, Arlen Escarpeta, and Karan Oberoi.
Nkechi Okoro Carroll, Sonay Hoffman, Greg Berlanti, Sarah Schechter, Leigh London Redman, and Lindsay Dunn serve as executive producers. Berlanti Productions and Rock My Soul Productions produce in association with Warner Bros. Television and Universal Television, a division of Universal Studio Group.
Found, Series Premiere, Tuesday, October 3, 10/9c, NBC