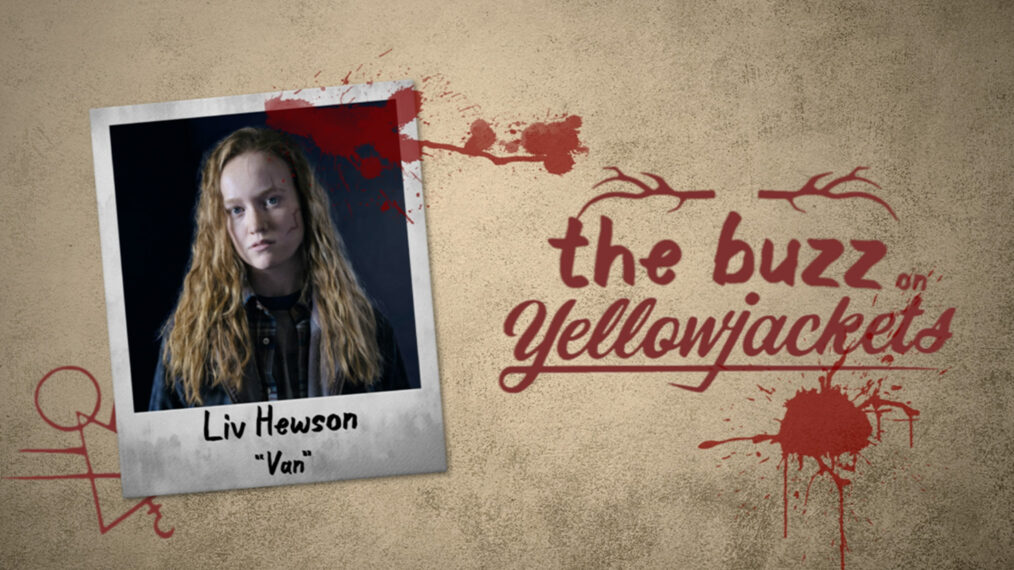 "'What this place wants from us is violence. I know what's required from us,' is what she's thinking," says Liv Hewson of their character, teenage Van, in this devastating eighth installment of Yellowjackets.
In our latest episode of The Buzz on Yellowjackets (be sure to watch the whole thing!), Hewson tells us it was Van who came up with the idea to use the card-drawing ritual (already in place to assign chores) to randomly decide who the group would kill and eat. Natalie (Sophie Thatcher) pulls the designated death card (the Queen of Hearts that Javi [Luciano Leroux] found while he was alone in the wilderness).
The others' cards may hold meaning, too, but on a different level. Hewson says, "The cards that we pull are in the scripts. When we got there on the day and were planning how to film it, it was like 'OK, do we need those cards in order, so the right people draw them?' and the writers were like, 'Yes, we want to make sure those are the cards you draw." What that means going forward is anyone's guess.
The cards may have been pre-selected, but that wasn't the case for the axes and knives the crazed pack picked up to hunt Natalie as she tried to escape. Hewson tells us the cast was given the opportunity to choose which weapon their character would grab for the hunt. "I picked the rebar over the fire because it felt right to me. There's a twofold instinctive reaction to that which is: This works as a weapon; I can hit something with this. I can poke something with this," Hewson says. "And, also, I can carry something back to the cabin with it if necessary."
The hunt goes from terrifying to tragic as young Javi tries to lead Nat to safety but falls through the ice of a frozen lake. The girls let him drown. Van stands back and watches coolly as he begs for help. "That's what it's all about now. Enough of the hope. Enough of the touchy feely. Enough of the crying. It's all about practical decision-making for her now. It's a divorce from feeling, which is not sustainable. Feelings catch up with everybody, and they will catch up with her," Hewson says.
Kailey Schwerman/SHOWTIME
Hewson saw the brutal turn of events coming when they got the script for Episode 7 and read the scene where Shauna pummels Lottie. "It sinks in for Van that they are going to start killing and eating each other. There was something about the arrival of ritual violence. At the time I was like, 'This is when it occurs to Van that it is inevitable: They are going to start killing and eating each other.'"
And although '90s Van is convinced of the power of the wilderness, the adult Van (Lauren Ambrose) is the most hesitant of all the women about revisiting the past. She even hangs back when they all head to the "sharing shack" at Lottie's (Simone Kessell) compound.
"I can't wait to see why in my bit she's all in and Lauren's bit she's all out. Something or perhaps a terrible number of somethings have happened in the intervening 25 years to completely restructure how Van feels about any of this. That's exciting to me," Hewson says.
So as the stranded team enters this bloody new phase, will teen couple Van and Taissa (Jasmin Savoy Brown) become a force to be reckoned with – or fall apart? "Over the course of Season 2, I think there is a possibility of a real crack in the foundation for the two of them. Van spent so much of this season trying to get Taissa help, and Taissa won't take the help – of course not, because it's not good help. Van feels like she's out of options and out of resources. If I can't help you, protect you – then what am I doing? What is this even? What's going to happen to us? Those kids might be in trouble."
Check out the video for more of Hewson's reflections on Van and the other Yellowjackets; plus behind-the-scenes details about shooting the hunt in the woods and across the frozen lake; working with Lauren Ambrose; and Coach Ben's (Steven Krueger) discovery of the underground sanctuary.
What was their reaction when they first read about Ben's find? "I'm a little bit scared of caves so my immediate concern was – are you going to make us get in a bunch of caves?! I got nervous," Hewson says with a laugh.
Yellowjackets, Sundays, 9/8c, Showtime (and Fridays on On Demand and Streaming)