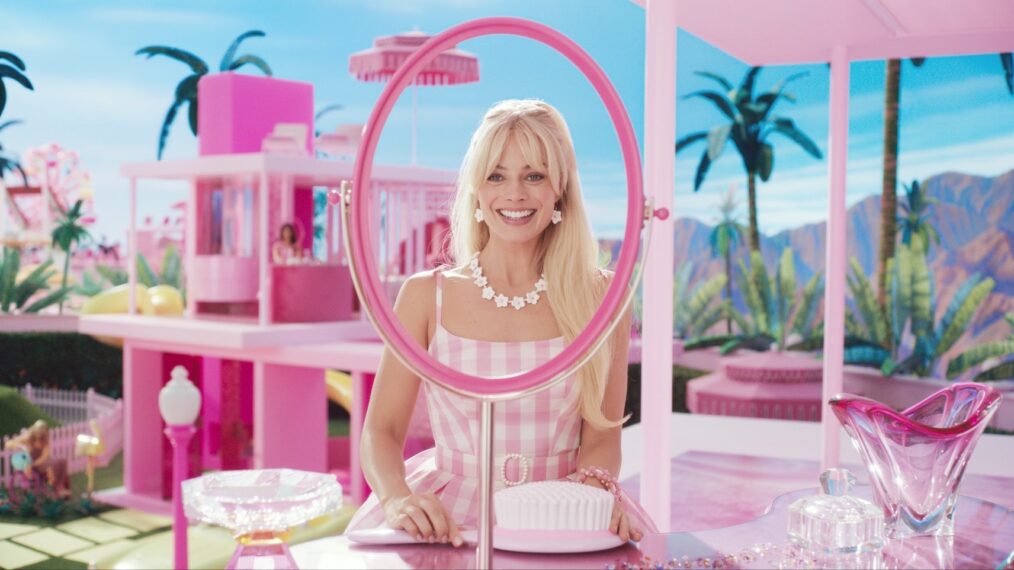 Greta Gerwig's Barbie movie is now available to view in your Mojo Dojo Casa House. As of today, September 12, the record-setting film can be rented and purchased across digital platforms.
Thanks to the "Barbenheimer" social media craze, the Barbie movie release date was already a hot topic for moviegoers. Gerwig's hot-pink hit was out for less than one month when Warner Bros. Discovery revealed that Barbie would start streaming on Max in the fall (per Deadline).
The rental price is set at $24.99 and will grant viewers access to the film for 48 hours. Fans can purchase a digital copy for $29.99 so they can watch to their heart's delight. Rentals and purchases can be made on platforms such as Amazon Prime Video, AppleTV, Google Play, Vudu, and other digital venues. Barbie will also be available to watch on flights in September. With a PVOD release confirmed, it shouldn't be long before Barbie is available to stream on Max.
Barbie crossed the $1 billion mark on August 7 after hitting theaters on July 21. It's the first film directed solely by a woman to ever reach this milestone, and it's officially Warner Bros.' most successful movie ever (Harry Potter and the Deathly Hallows: Part 2 previously held that title). It crossed the $400 million in domestic box office sales mark on August 3, its 14th day in theaters, beating recent blockbusters to this milestone — 2022's Top Gun: Maverick (now streaming on Paramount+) and 2023's Super Mario Bros Movie (now streaming on Peacock) hit $400 million domestically in 18 days.
The Margot Robbie and Ryan Gosling-led movie is still in theaters and will continue to be through September. It's also getting a special one-week IMAX release with unseen end-credits footage starting September 22 (per Forbes).
Barbie stars Robbie as "Stereotypical" Barbie alongside her Ken, played by Gosling. America Ferrera, Kate McKinnon, Issa Rae, Michael Cera, Simu Liu, Kingsley Ben-Adir, Will Ferrell, Rhea Perlman, Ariana Greenblatt, and more also star. The movie begins in the "perfect" world of Barbie Land, where everything is great (unless you're a Ken). Robbie's Barbie and Gosling's Ken embark on a life-changing adventure to the Real World to figure out why Barbie's suddenly feeling human emotions.
Barbie is the fourth movie directed by a woman to cross the billion-dollar benchmark. Its $1,403,778,771 (as of time of publication) in global ticket sales makes it the second highest-grossing film ever directed by a woman. Frozen II (directed by Chris Buck and Jennifer Lee) is still in first place at $1,453,683,476. Frozen is now in third ($1,284,540,518, directed again by Buck and Lee), followed by Captain Marvel ($1,131,416,446, directed by Anna Boded and Ryan Fleck).
Barbie made close to $20 million in ticket sales between September 5 and September 12. It will play in IMAX theaters for one week starting September 22. With its more expensive tickets, could the IMAX showings make Barbie unseat Frozen's record? Time will tell.