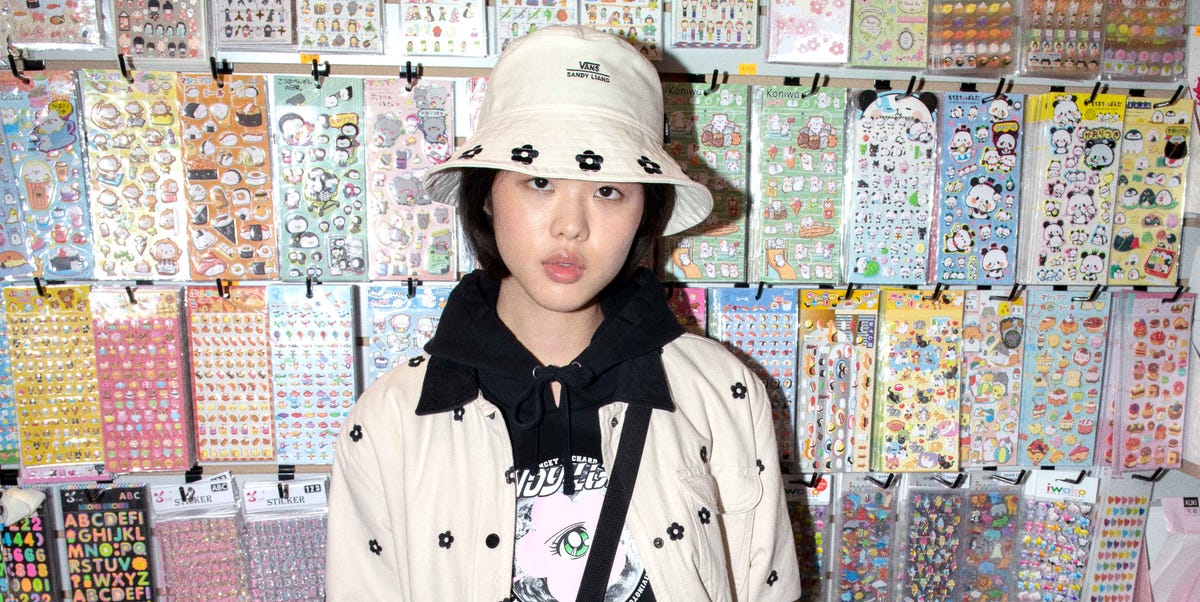 New year, new fashion! Thankfully, 2022 promises to (hopefully) bring a dose of optimism in regards to style. Keep your eyes on this list as we make note of the best fashion news, collaborations, and launches happening this January.
1 Sandy Liang Collaborates With Vans on a '90s-Inspired Collection
Who: Sandy Liang and Vans
What: Capsule RTW and shoe collection
Where: Available on Vans.com and SandyLiang.info starting January 28th
Why: Downtown-cool designer Sandy Liang has teamed up with Vans for the third time, creating a head-to-toe collection that's oozing with tween nostalgia. The pieces pull ideas from the contradictions of NYC, embracing the beautiful, sporty, frilly, and, yes, gritty in equal doses. Vans's SK8-Hi Tapered Modular is reimagined with a detachable rubber sole, chunky enough for wintry conditions in any city, countered by a delicate lacy trim on the heel. The retro stickers and graphics on the brand's signature sneakers harken back to teen days just before Y2K, when '90s mall culture ruled. Born and raised in NYC, Liang says her favorite memories of that time are "growing up and being careless and dreamy, thinking about who I would be as an 'adult', [and] wanting to go to the mall and shop with my friends." Shot in Chinatown, the campaign celebrates the mini-malls that populate the neighborhood and the bordering Lower East Side area. The collection's forest green low-tops embroidered with "LES Lover" are a particularly covetable blast from the past.
2 ASHYA and Michael Kors Team Up on Two Limited-Edition Bags
Who: ASHYA and Michael Kors
What: Collaborative release
Where: Available online at michaelkors.com
Why: Michael Kors established his eponymous brand in New York City back in 1981. Which means this year, we'll celebrate 40-plus (!) years of what we now know as a fully realized global enterprise. Harking back to his beginnings as a designer, Kors has decided to propel future generations of talent. Cue New York-based, travel-inspired label ASHYA, which caught his eye due to its thoughtful and unique designs that marry style and pragmatism. Co-founders Ashley Cimone and Moya Annece are right where Kors was years ago, emerging in the New York design scene and making every effort to become established as a new generation's go-to accessories brand. Amid an ongoing exploration of their West African roots, Cimone and Annece incorporate unique regional elements into their work, in which communities pass down stories through textiles. This tradition takes form in the modern era in the Moya multi bag and Ashley Bolo bag, a combo of the MK signature logo print with West African textile designs. For the collab, Kors generously lends his platform to ASHYA, which has produced two versatile and stylish bags—a sort of ode to the founders' origin, as well as the effortless mobility in fashion that Kors has played such an important role in.
3 Dior Introduces Dior Vibe Collection—and a New Bowling Bag
Who: Dior
What: Dior Vibe line and Dior Bowling bag
Where: Available at Dior stores and retailers worldwide, and on dior.com
Why: Dior Vibe, Maria Grazia Chiuri's latest vision for the house of Dior, debuted in the Cruise 2022 show and leans heavily into sportswear. The line also adds a brand-new handbag offering: the Bowling bag, inspired by the complex construction of sneakers. This bag is nothing like your dad's vintage bowling bag (although the two do share the same retro shape), featuring seasonal and evergreen Dior prints and a star-embossed rubber base based on sneaker soles to ensure it's as practical as it is stylish. The bag represents a leap (or hop, or lunge) into Dior's future as an ever-changing label, embracing every facet of the Dior woman. The accompanying campaign highlights audacious female athletes across multiple disciplines (including Somali boxer Ramla Ali) bringing bold, sporty energy to the Vibe collection. Why not make your 2022 resolution to get fit be "to get fit decked out in Dior Vibe?"
4 Ferragamo Celebrates the Lunar New Year with Artist Collaboration
Who: Ferragamo
What: Lunar New Year collection
Where: Available online at ferragamo.com and at select Ferragamo stores worldwide
Why: Just in time for the Chinese New Year, Ferragamo is bringing the spirit of the Tiger to life in a collaboration between the brand and Chinese artists Sun Yuan and Peng Yu. Ferragamo's Studio Box bag and signature scarf have been printed with an all-over tiger painting by the artist duo, honoring the unique fusion of fashion and art that Ferragamo has fostered since its inception almost 100 years ago. Ensure you bring the energy of the tiger (braveness and strength) and his orange coat, a lucky color for the year, with you via these beautifully realized accessories.
5 Prada and Adidas Partner on Sustainably Made Re:Nylon Capsule
Who: Prada and Adidas
What: The Adidas for Prada Re-Nylon collection
Where: Jan. 13 at Prada boutiques worldwide and online at prada.com and adidas.com/prada
Why: Prada and Adidas are kicking off 2022 with a collaboration that bears in mind the future of our planet. The Adidas for Prada Re-Nylon collection, named after Prada's Re-Nylon fabric reimagined within the iconic Adidas Originals Forum, features high-end athletic wear (think: RTW, accessories, bags, and elevated takes on classic Adidas Forum High and Low silhouettes) made in Italy with recyclable materials. In tandem with the drop, there will be a celebratory digital activation, bringing both brands and customers together in the metaverse (where else?). The inherently innovative spirit of this latest collection has a unique rollout fitted for the future of fashion, all the while emphasizing sustainability.
Kevin LeBlanc Kevin LeBlanc is the Fashion Associate at ELLE Magazine.
This content is created and maintained by a third party, and imported onto this page to help users provide their email addresses. You may be able to find more information about this and similar content at piano.io