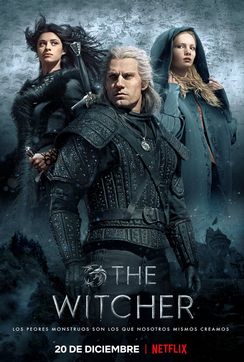 THE WITCHER – Genero: Suspenso – Thriller – Drama – Accion – Ciencia Ficcion Pais: USA Duración: 60 min x  capitulo Director: Lauren Schmidt (Creador), Alik Sakharov, Charlotte Brändström, Alex Garcia Lopez, Marc Jobst Guion: Lauren Schmidt, Declan De Barra, Beau DeMayo, Haily Hall, Jenny Klein, Sneha Koorse, Michael Ostrowski (Novelas: Andrzej Sapkowski) Reparto: Henry Cavill, Freya Allan, Millie Brady, MyAnna Buring, Anya Chalotra, Björn Hlynur Haraldsson, Adam Levy, Jodhi May, Mimi Ndiweni, Therica Wilson-Read, Eamon Farren, Joey Batey, Lars Mikkelsen, Royce Pierreson, Maciej Musial, Wilson Radjou-Pujalte, Anna Shaffer, Rebecca Benson, Shane Attwooll, Luke Neal, Matthew Neal, Tobi Bamtefa, Roderick Hill, Inge Beckmann, Natasha Culzac, Amit Shah, Tom Canton, Judit Fekete, Imogen Daines, Shaun Dooley, Mahesh Jadu, Anita Olatunji, Kembe Sorel, Raquel Amegashie, Martin Angerbauer, Joachim Paul Assböck, Katia Bokor, Callum Coates, Bart Edwards, Lucas Englander, Máté Haumann, Michael Keane, Sam Marks, Mya-Lecia Naylor, Adele Oni, Lila Prideaux, Jordan Renzo, Roger Ringrose, Philippe Spall, Alexandra Szucs, Colette Tchantcho, Jason Thorpe, Gudmundur Thorvaldsson, Richard van Weyden, Veronika Varga, Steve Wall, Ben Wiggins, Scott Alexander Young, Attila Árpa

VALORACION: –


RESEÑA: El brujo Geralt, un cazador de monstruos mutantes, lucha por encontrar su lugar en un mundo en el que las personas suelen ser más malvadas que las bestias. 
Adaptación de la serie de cuentos y libros de The Witcher – El Brujo. El film se centrara en el brujo Geralt, Yennefer y su vinculo especial con Ciri, Princesa de Cintra, en un mundo lleno de monstruos, brujas, sexo y política. THE WITCHER 
CAPTURAS
TRAILER
COMPARTE ESTE ARTICULO! – MIRA ABAJO LOS COMENTARIOS.
ADVERTENCIAS Y REGLAS antes de comentar en BLOGHORROR
• Comentar con respeto y de manera constructiva.
• No se permiten links de otros sitios o referencias a sitios de descarga. 
• Tratar de hablar de la pelicula en cuestión, salvo ocasiones especiales. Nada de interminables debates políticos, religiosos, de genero o sexualidad *
• Imágenes están permitidas, pero siempre con moderación y que no sean demasiado grandes.
• Los comentarios de usuarios nuevos siempre son moderados antes de publicarse.
• Por ultimo, las reseñas y criticas en BLOGHORROR pueden contener humor negro-ácido, que de ninguna forma debe ser tomado en serio! y que tienen como fin el puro entretenimiento satírico.
• Disfrute su estadía 😉
Continue Reading