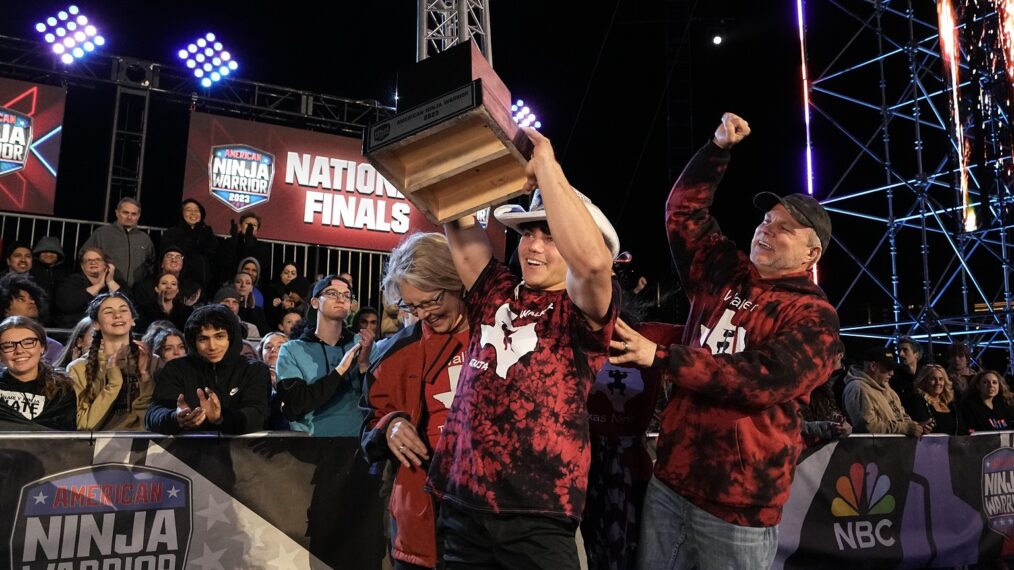 One second made all the difference during the nail-biting season finale of American Ninja Warrior season 15. With a record-breaking eight qualifying for Stage 4, history was made as the "Great Eight" made the arduous 75-foot rope climb of Mt. Midoriyama. In the end, Vance Walker conquered the tower in an incredible 26:75 seconds, just enough to pass veteran ninja Daniel Gil's time of 27:99.
The 18-year-old joins Isaac Caldiero and Drew Drechsel as the only finalists to ever be awarded the million-dollar prize. More than any amount of money or trophy, Walker takes pride in seeing others inspired by his story. "Walker Texas Ninja" was told at one point he would never walk without assistance, let alone play sports. He was diagnosed at 18 months old with a form of Cerebral Palsy called spastic diplegia in his legs, which required him to wear leg braces. Through sure will, determination, and a never-give-up attitude, the remarkable youngster proved those doctors wrong.
Walker won every race in his age group during the first seasons of American Ninja Warrior Junior. Then during Walker's first season on the flagship show in 2021, he made it all the way to Stage 3 of the finals in Las Vegas. After a disappointing run on season 14, he rededicated himself, graduating from high school early and moving to Tampa to work with veteran ninjas including RJ Roman and Caleb Bergstrom, who were among those he faced in Stage 4 this time around.
Here Walker talks to TV Insider about his emotional victory and what it means to stand atop the ANW mountain.
Photo by: Elizabeth Morris/NBC
I know it has been a whirlwind couple of hours for you. After all those teasers and promos of a million-dollar winner, how does it feel to be able to formally celebrate?
Vance Walker: It feels super nice to watch the show and finally celebrate with my family. I've been having to keep this a secret for four months now. Finally, to see it on TV and experience it with everyone has been amazing. Watching it back, this was the first time I've seen any of it since it happened. It makes it more real. I've been visualizing it for so long, that when it happened, it didn't feel like reality.
When you consider all the other involved challenges, ironically Stage 4 is rather simple. Climb the rope within 30 seconds and hit the buzzer. But as we've seen over the years, it's anything but easy. 
The rope is the most straightforward obstacle in Ninja but the hardest. Going up a 75-foot rope in 30 seconds is absolutely insane. I've always been gifted at pull strength and good at rope climbs and practiced it a lot. So when I got there I had a good chance of winning. It was absolutely terrifying with a million dollars on the line, but I knew I had what it took to get it.
What are you doing with the money? 
I'm big on investments, so I'm going to be investing most of my money. I'm considering getting a BMW, but I have an older BMW. So I might hold off on that. We'll see. I'm definitely going to be investing in crypto. I've been into that for a long time. Trying to make as much as I can.
You went head-to-head with your training partner and friend Ethan Barthnicki in Stage 2. I think having the side-by-side this year took out a lot of favorites. How was that for you? 
The races were absolutely terrifying, especially on Stage 2 with a spot at Stage 3 on the line. I'm so glad I got to race my brothers in Ethan. I've known him for eight years now, and we've been best friends for a long time. We've been training with each other since the start of our careers. Going from the practice competitions we would have in our backyards to being on Stage 4 together was absolutely wild. Getting to race him on Stage 2, and compete with him on Stage 3 and 4 was the most amazing experience ever.
It was competing with Ethan where you fell during the "Falling Shelves" obstacle. You were able to come back to win a "Run-off" race against Alex Romer to continue on to Stage 3. That must have been an emotional rollercoaster. 
It was. I didn't clear in my first race on Stage 2. Me and Ethan were on the last obstacle trying to get ahead of one another and missing it down in the water. He got there slightly faster than I did, so he won the race. Luckily, I went far enough and fast enough to get past the non-winners.
One thing about the ANW community that stands out is how genuinely supportive you are of each other. A perfect example of that was after you beat Daniel Gil's time. He could have easily just broken down but instead was smiling and cheering you on. How was it for you to see his reaction? 
I love Daniel. He is one of the most supportive people in Ninja. The entire community is insanely supportive, which is weird because it's not a team sport. We all come together. Having one person achieve "Total Victory" is a victory for the entire community. It sucks I had to take the million dollars from him, but he was proud of me and happy someone had achieved it. We're not in it for the money. We're in it because we love the sport and want to get to the top of the tower. I know he was bummed out for not getting the million dollars, but he did what he came there to do. He achieved "Total Victory".
Take me through the sacrifices you've made. In the past, you moved to Tampa and graduated from high school early. You missed those milestones like prom. 
Right after season 1 of American Ninja Warrior Junior, my family finally realized this was a real possibility. They let me do all of high school online. I got it done as fast as I could. I graduated a year and a half early and moved out right after I turned 17. I started training as hard as I could. I sacrificed a lot. I never got to go to homecoming or prom. I never got to do a lot of things other kids my age were doing. I sacrificed everything to train for this sport. Luckily, it paid off.
Photo by: Elizabeth Morris/NBC
You've been open about your journey overcoming cerebral palsy. What do you want to say to people now that you are on top? Also, who has been that inspiring person for you as you inspire others? 
I think one of my biggest inspirations was probably Daniel Gil. Seeing him come so close in 2019 to winning the million dollars and seeing his journey. Joe Moravsky and a lot of the old competitors that I've grown up watching too. Seeing them train for so long has been so inspiring. When I see myself struggling, I look at how much work they've put in and how many times they've come up short and still come back stronger. Watching everyone in the community and growing up having to face those struggles myself has been very inspiring for me. I think having cerebral palsy has always been difficult for me because I've always been told I wouldn't be able to do anything I wanted to do. I was told I would never be able to walk without the leg braces. I was told I would not be able to do so many things but kept working at it and thinking of that goal and not stopping until I got there. Having all those people inspire me helped with that.
This season they threw out a lot of curve balls. What was the most challenging for you? 
I think the hardest thing they threw at us was the racing. Going on that course by yourself is already terrifying, but having to do it against another competitor is horrible. Having to race against one of your friends with the chance one of you may not make it is not a great feeling. But when we both made it to Stage 4 it was very rewarding and relieving.
I read you're already planning to be part of season 16. Why is it important for you to continue on? What do you hope to achieve? 
In my rookie season, I was able to get up the Mega Wall. Sadly, this season they added a time limit, and wasn't able to get to that point fast enough to try it. I want to get to that Mega Wall again. Also, when I fell in Stage 2. That was something I planning on doing. I wanted to hit all six buzzers on the first try. I want to come back to get that perfect season.
Is there anything from a competitor's perspective you want American Ninja Warrior to change, add or tweak? 
That's a good question. I don't think a lot of viewers realize that even though it's dark outside, it's filmed at six in the morning. I've run at four and five in the morning before. Running right before sunrise when you've been up all day is very rough. I think that is something the viewers don't seem to understand. They know it's dark outside, but they don't realize we're racing when we would normally be dead asleep. That is one thing I wouldn't mind being different.