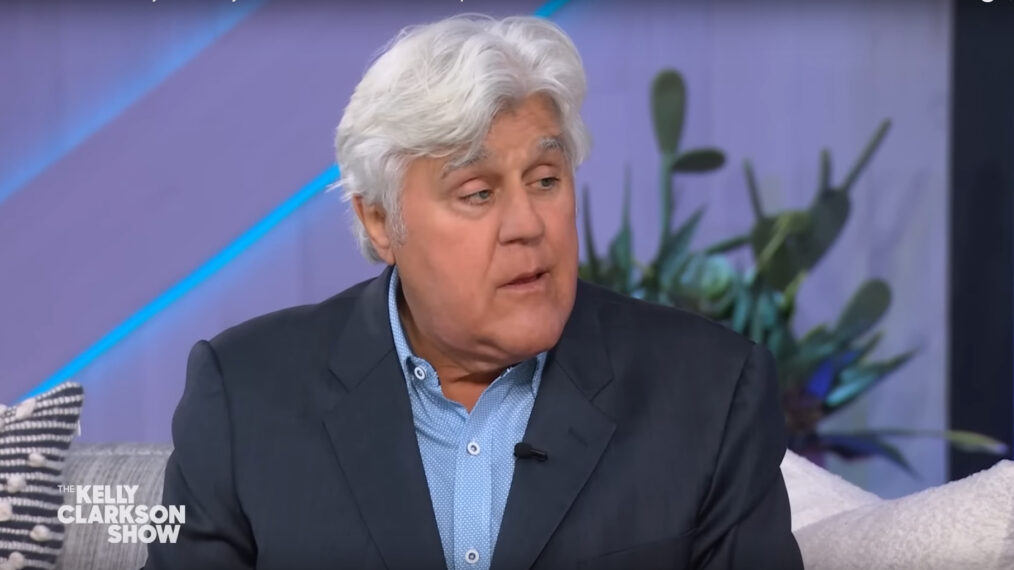 For the second time in his career, Jay Leno is "the new face of comedy," the former Tonight Show host joked when he appeared on The Kelly Clarkson Show on Wednesday, March 1.
Leno suffered third-degree burns on his face, chest, and hands in November after a fire erupted while he was working on a car in his garage. Following the accident, he spent eight days at the Grossman Burn Center in Los Angeles, where he received skin grafts and a surgical excision.
"You look great," Clarkson told the comedian as he joined her on the sofa.
"This is a brand-new face," he responded. "It is; it's unbelievable. What happened… I was working on a car, and I got a full face of gasoline, and it caught fire. And I had been eating a flaming hot Dorito, and when I bit into it, it set my face on fire."
He continued, "It was all third-degree burns. It was pretty bad. It was pretty bad." And when Clarkson said, "You can't tell at all," he joked, "No, you think there'd be a zipper here or something. No, this is like a brand-new face. Only for the second time in my career am I the new face of comedy."
Leno also joked about a second accident he suffered in January when he crashed his motorcycle, resulting in some serious injuries, including several broken bones.
"It's a great way to lose weight. First you burn off the calories, and then you go on a crash diet on your motorcycle, and I dropped 20 pounds," he quipped.
He also revealed that President Joe Biden called him while he was in the hospital. "Usually, you'll get a call from someone, and they'll say, 'Are you prepared to take a call from the president?' But I was in the hospital, [the] phone rings, 'Jay? Jay?! It's Joe!' And I say, 'Joe?' And he goes, 'Yeah, Joe Biden. I'm in China. I just wanted to see how you are.'"
Later in the show, Leno and Clarkson surprised three nurses who treated the comedian while he was in the hospital, gifting them a three-night vacation to the Bahamas. You can watch the clip below.
The Kelly Clarkson Show, Weekdays, syndicated, check local listings