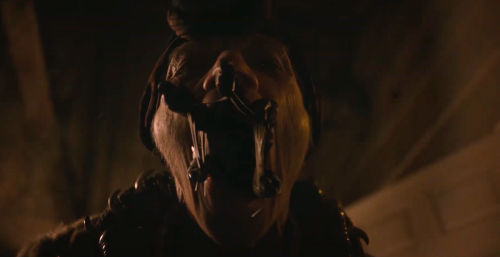 Tras la divertida comedia de terror del año pasado Willy's Wonderland, Kevin Lewis vuelve con The Accursed, protagonizada por Mena Suvari y que se estrenará en cines y en varias plataformas de VOD el 14 de octubre.
El llamativo póster y el siniestro tráiler ya se pueden ver. "El infierno vive aquí", presume el one-sheet, en el que aparece un brazo saliendo de la boca de una anciana.
En The Accursed

Elly (Sarah Grey) recibe el encargo de una amiga de la familia (Mena Suvari) de pasar unos días cuidando a una anciana (Meg Foster) que vive en una cabaña remota. Ella acepta de buen grado pensando que un corto viaje al bosque será una agradable escapada. La cabaña resulta ser cualquier cosa menos relajante, ya que Elly comienza a tener alucinaciones que confunden la realidad con sus sueños. A medida que las visiones se apoderan de ella, Elly se da cuenta de que ha sido atraída hasta allí por una presencia demoníaca que se esconde en el interior de la mujer esperando liberarse.
"Esta película está inspirada en grandes joyas del terror real como El bebé de Rosemary, La profecía y The Changeling. Mientras que Willy's Wonderland era un saludo a los años 80, ésta es mi carta de amor al terror vintage de los años 70", dice el director.
La verdad verdadera, tiene buena pinta y la tendremos por aquí, obvio.
COMPARTE ESTE ARTICULO! – MIRA ABAJO LOS COMENTARIOS.
ADVERTENCIAS Y REGLAS antes de comentar en BLOGHORROR
• Comentar con respeto y de manera constructiva.
• No se permiten links de otros sitios o referencias a sitios de descarga. 
• Tratar de hablar de la pelicula en cuestión, salvo ocasiones especiales. Nada de interminables debates políticos, religiosos, de genero o sexualidad *
• Imágenes están permitidas, pero siempre con moderación y que no sean demasiado grandes.
• Los comentarios de usuarios nuevos siempre son moderados antes de publicarse.
• Por ultimo, las reseñas y criticas en BLOGHORROR pueden contener humor negro-ácido, que de ninguna forma debe ser tomado en serio! y que tienen como fin el puro entretenimiento satírico.
• Disfrute su estadía 😉
Continue Reading